From 2013 to 2015, Sunshine Foundation ran a three-year training project to help the Chennai-based NPO International Foundation for Crime Prevention and Victim Care (PCVC) set up a Recovery and Care Center for women burn survivors, establishing the basis for comprehensive physical and psychosocial rehabilitation services for women burn survivors after hospital discharge.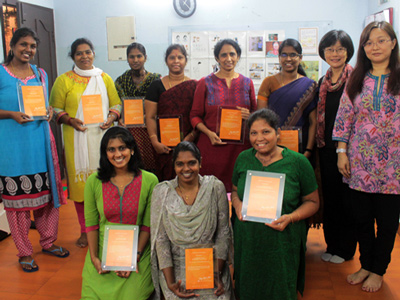 By training PCVC staff in Chennai, holding internships for them in Taiwan, as well as providing guidance and discussing service development with PCVC staff, Sunshine supported PCVC in attaining the following objectives:
Developing the capacity of PCVC to deliver physical and psychosocial rehabilitation services to burn survivors (acquisition of knowledge and skills, development of clinical reasoning abilities).
Creating a comprehensive community rehabilitation model that accompanies burn survivors throughout the continuum of care (from initial contact at hospital, phone and home visit follow-up, services in Recovery and Care Center), that integrates families in the healing and rehabilitation of the burn survivor, and that facilitates the process of re-entry and reintegration of the survivor into a life at home and society.