Capacity building programs
Sunshine works with partner organizations who wish to establish or further develop burn rehabilitation services by:
Identifying their capacity building/training needs and assessing gaps in knowledge, skills or techniques, as well as the best interventions to close these gaps.
Developing customized programs that include knowledge/skills training, as well as guidance and discussions on how to set up or improve work flows and service management systems.
Carrying out follow-up and outcome evaluation through site visits, online case discussions, etc.
Training courses and workshops
Over the years, Sunshine has organized training courses and workshops in Taiwan and abroad on a variety of topics, such burn physical rehabilitation (ex: splinting, fabrication of transparent facial mask, scar management through pressure therapy), psychosocial rehabilitation after burns, use of skin camouflage as an image enhancement tool, etc.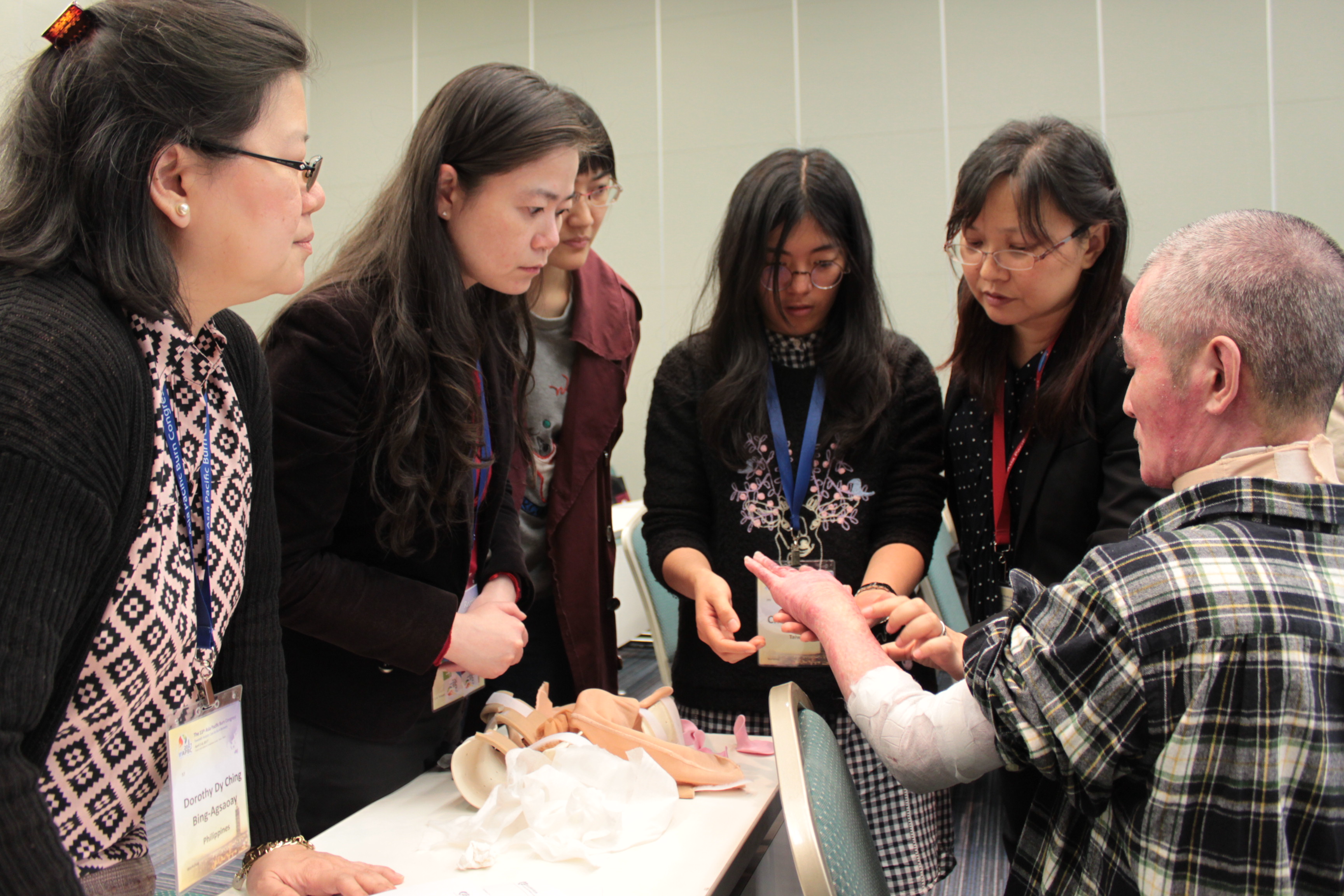 Burn rehabilitation workshop during APBC 2017 in Taipei

Online courses
Sunshine Foundation has developed online courses on burn rehabilitation that are available on its E-Learning platform.
Online courses allow participants to l
earn at their own rythm, during their own time, wherever it is convenient for them; manage their own learning by providing clear and detailed information about their learning progress, as well as visualize their learning results, thanks to evaluations like mini-quiz and exams.
For more details about Sunshine's training programs, both presencial and online, please visit the
Sunshine Training Center website
.
Externship and short-term training at Sunshine
Sunshine can welcome burn rehabilitation professionals (social workers, occupational/physical therapists, psychologists, etc.) for externships or short-term training at its rehabilitation center in Taipei City. Written application should be submitted by email to marie@sunshine.org.tw at least three months before the proposed dates for the externship/training. Additional documentation might be required following the initial evaluation of the request. Trainees/interns are not paid. The cost of travel, insurance, and accommodation, as well as living expenses are the responsibility of the applicant or his/her organization. Applications are received and assessed throughout the year.
Download the application form here.

* Due to the situation with Covid-19, Sunshine Foundation is not accepting any externship/short-term training requests at this moment.
Externship of Indian burn therapist at Sunshine's Rehabilitation Center in 2019 (

read the story here

)
Books and other resources
Burn Rehabilitation: Theory and Practice



As part of its efforts to improve burn rehabilitation for all, Sunshine Foundation released in July 2018 the book Burn Rehabilitation: Theory and Practice (currently only available in Traditional Chinese, soft cover version). This is a highly practical book, which not only provides an overview of the basic burn knowledge and burn rehabilitation principles, but also looks at common problems and complications faced by burn survivors in the later phase of rehabilitation, and provides guidance on appropriate interventions to prevent or correct them.